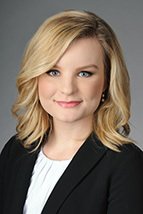 Sidney Johnson is a transactional attorney at Sparks Law. Prior to joining the firm, Sidney worked at Bird Law Group, P.C. here in Atlanta, Georgia representing Plaintiffs in medical malpractice, personal injury, and premises liability disputes. She graduated cum laude from the University of Georgia School of Law. During law school, Sidney participated in Moot Court, served as a Dean's Ambassador, and was a Notes Editor for the Journal of Intellectual Property. Her article, "The Road to Hell was Paved with a Good Faith Belief" was ultimately selected for publication. Prior to graduation, Sidney also received the Ron Carlson Award for Excellence in the Study of Evidence, the CALI Excellence for the Future Award in Constitutional Law, and was awarded Best Advocate in a Legal Ethics and Professionalism Competition hosted by Walter F. George School of Law. 
Legal Practice Areas
Business and Corporate, Business Formation, Transactional
Bar Admissions
Georgia
Court Admissions
Georgia State and Superior Courts, Northern District of Georgia, Georgia Court of Appeals, the 11th Circuit Court of Appeals, and the Supreme Court of Georgia
Experience
BIRD LAW GROUP, P.C.                                                                                  
Associate
Analyzed potential client claims from intake, including reviewing medical records and police reports
Met with clients and potential clients, drafted representation agreements, and obtained necessary authorizations
Negotiated pre-suit settlements
Researched, retained, and consulted with medical and non-medical experts
Prepared for depositions in medical malpractice, personal injury, premises liability, and tax litigation
Drafted an amended complaint, motions, discovery questions and responses, open records requests, nonparty requests for production of documents, 6.4 letters, letters to lien holders, demand letters, spoliation letters, jury charges, deposition designations, and mediation statements
Deposed fact witnesses 
Obtained emergency conservatorship 
Assisted with appeals for medical malpractice and products liability cases to the Georgia Court of Appeals and 11th Circuit Court of Appeals
GWINNETT COUNTY DISTRICT ATTORNEY'S OFFICE         
 Prosecutorial Clinic Intern
Drafted indictments and accusations
Drafted guilty plea agreements and arraignment preparation materials
Interviewed law enforcement officers and victims
Participated in voir dire, preliminary hearings, guilty pleas, and grand jury proceedings under the supervision of a practicing DA
Conducted a felony trial, delivered opening and closing statements, examined and cross-examined witnesses
UNIVERSITY OF GEORGIA SCHOOL OF LAW              
 Research Assistant to Professor Kent Barnett
Conducted research on administrative law proceedings to analyze Chevron and Skidmore deference
Back to about